Towards a child-friendly judicial system in Europe
Comments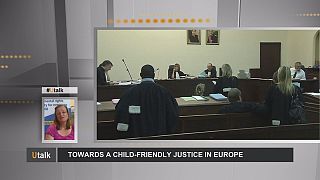 Kate in London asks: "Each year hundreds of thousands of children across the EU are involved in legal proceedings. But are the member states' judicial systems adapted to their specific needs?"
The response is from Astrid Podsiadlowski the European Union Agency for Fundamental Rights:
"Actually not! That's why we interviewed professionals and children. We asked judges, lawyers, prosecutors, social workers, psychologists
who work with children who are either witnesses, or victims of crimes, or parties to proceedings. And what the professionals tell us is that there is a great variation of practices across member states, but also within member states.
"It's become very clear from the children who were interviewed that they do want to be heard and they do want to voice their opinions.
"And we do need to find the best conditions for them to do that. Children have the right to be heard. And then there's also the right to information: the children need to know what their rights are, they need to understand the procedures, so they need to be told who's talking to them and why.
"Then we can't forget that children have the right to be protected. Too many children tell us (for instance) that they've been meeting the defendant in the courtroom or if not in the courtroom, in the waiting area. And this is very intimidating for the child.
"I think that we can be active on several levels. On international level we have the Council of Europe's guidelines on child-friendly justice, these are international standards which should be implemented.
The European Union has key Directives which include children and how they should be treated like the Victims Directive, the Directive on Sexual Abuse, the Trafficking Directive and there 's also a draft Directive on Procedural Safeguards for children suspected or accused of a crime.
So this is on EU level. But a lot is on the responsibility also of the member states."
If you would also like to ask a question on Utalk, click on the button below