Shelling or shelter: the impossible choice facing battle-weary Ukrainians
Comments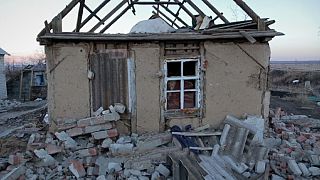 In war-ravaged areas of east Ukraine people face not only incredible hardship but also a torturous dilemma: to flee or to stay. While no one wants to leave their homes they risk injury or even death by not doing so. If they leave they become refugees within their own country – internally displaced persons (IDP).
We cannot leave because this is our land. Why should we leave? Let those leave who came to our land.
But for most, this is merely the lesser of two evils. With their lives put on hold, they face deprivation and poverty in the short term and an uncertain future. Even getting IDP status and the meagre allowance it brings is not without its difficulties.
In this edition of Reporter, Euronews' Ukraine Bureau Chief, Sergio Cantone, meets Ukrainians on both sides of this dilemma – those who fled the conflict and those who have stayed, sometimes literally, among the rubble. Though they have chosen different paths, all have harrowing stories to tell.
Watch the video to find out more.