MEPs honour France terror victims
Comments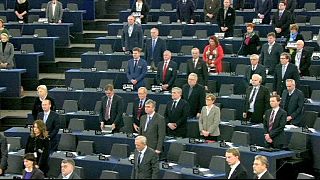 MEPs have paid tribute to those who lost their lives in the recent terror attacks in France.
The European Parliament fell silent for one minutes as parliamentarians remembers those who died.
Recent events in Paris have sparked a fierce debate on a planned EU terror law that would share passenger data.
"You can not eliminate the rights of the individual, because a terrorist attack which has happaned. the Court of Justice was very clear on this," said Viviane Reding, the former EU justice commissioner.
"There has to be a reasonable equilibrium between the needs of the police and security on one side and the individual and its rights which are inscribed in the treaties on the other side."
But the plans to share passenger name records are not without their opponents, including British MEP and UKIP leader Niger Farage.
"I can comfortably predict that the one thing we will hear real agreement on today is that the EU needs more power. That is the logical conclusion that the EU draws from every crises," he said.
The bill has been stuck in parliament for three years after MEPs in the civil liberties committee voted it down in 2011.