Disabled and driving in the EU: where can you park?
Comments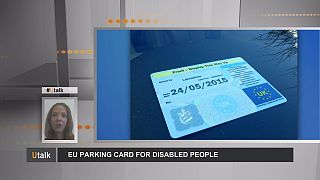 Access to parking spaces for people with disabilities is the subject of this edition of U-talk.
Our question comes from Igor in Ljubljiana: "I am planning to travel by car through several European countries, with Slovenia as my starting point. I have a question about my rights as a disabled person: will I be able to park my car in the designated spaces in all EU countries?"
The response is from Nina Koudelkova of the Europe Direct Communications Centre: "Yes, since 1998 the EU model of parking card allows disabled people entitled to use certain parking facilities in their EU country of residence to move more easily in the territory of another EU country as well and avail themselves of all the parking facilities granted to the disabled in that EU country.
"This is the result of an EU recommendation to the member countries, which provided for the standardisation of the layout of parking cards for people with disabilities and their recognition by the EU countries, in order to facilitate such people's freedom of movement by car.
"It contained very specific provisions on what the standard European card should look like, including its height, width, colour, material such as a plastic-coated card, content and how and where the information specific to the EU countries is to be displayed. It is the 'blue parking card' you may have seen in the windshield of cars already.
"As for the issuing [of such cards], individual EU countries remain responsible for that. Each country uses its own definition of disability and defines the procedures for granting the card.
"The recommendation is based on the principle of mutual recognition, meaning it does not aim to change the way in which the disability parking card is implemented at national level, nor does it align the rights disabled people have across the EU countries.
"However, while travelling as a disabled person with a EU disability parking card you will enjoy the same rights in this respect as the residents of the EU country you are visiting. Please contact your local authorities for information on how to obtain the 'blue parking card'. "
For more information about the EU, you can call 00 800 6 7 8 9 10 11 or check out the website.
And if you would like to ask a question on U-talk, click on the participate button below.