Saving cultural heritage from the ravages of war
Comments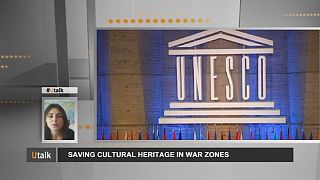 In this edition of U-talk, Paul from Paris asks the following question: "Given the escalating violence in the Middle East, how do we protect cultural heritage from destruction and looting?"
Nada Al Hassan from the UNESCO World Heritage Centre responded.
"Prevention is part of our daily work. UNESCO has international conventions to protect heritage, such as the Hague Convention for the protection of cultural property in the event of armed conflict, the Convention against illicit trafficking of cultural artifacts and the World Heritage Convention.
We work closely with Interpol and the International Customs Organisation, and also with auction houses around the world. It is possible to work actively to prevent the illicit trafficking of cultural artifacts. It's easy to act because trafficking happens at borders and on the international market. On the contrary, it's very difficult to protect cultural property on the ground during conflict.This usually comes afterwards, during reconstruction.
"In Mali, we are already rebuilding mosques in Timbuktu. Since the destruction of the Buddhas of Bamiyan in Afghanistan, we've been working on the consolidation of the niches, which house them. And we've been renovating all the painted caves and the archaeological site of Bamiyan.
"Of course human life, the status of refugees, violence and the search for peace come first in the regions of armed conflict.
"We do believe that not only do we have to transfer our heritage to future generations, but we also have to preserve it as a guarantee of social cohesion and as a founding element of the rebuilding of countries after war."
If you would also like to ask a question on U-talk, click on the participate button.