Power to the people: Europe's energy dilemma
Comments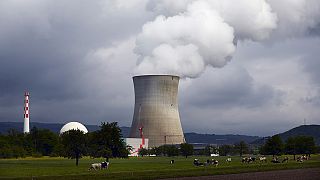 Achieving a secure energy supply at reasonable cost remains one of Europe's great strategic challenges.
The Ukraine crisis is driving the EU to rethink its energy policy. An EU report has called for more domestic production and to fast-track an EU energy market.
Energy Commissioner Guenther Oettinger says the EU "must avoid falling victim to political and commercial blackmail". But at what cost does energy independence come?
European businesses wants cost-effective solutions to keep industry competitive. Energy prices in Europe are already sky-high compared to other parts of the world.
The European Commission wants a mix of renewables, nuclear and "sustainable production of competitive fossil fuels" (read shale gas).
These are the pressing issues getting the treatment in this edition of The Network, debate from Brussels hosted by Chris Burns. Joining the discussion are: Ska Keller, German Greens MEP, Markus Beyrer, BusinessEurope's Director General, who represents business federations in 35 countries and Klaus-Dieter Borchardt, the European Commission's Director of the Internal Energy Market.
Watch the video to find out how they see the region's energy future.