How to get your voice heard in the EU
Comments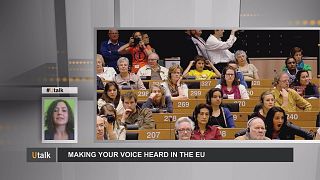 "I know that the European elections are coming up later this May. I was wondering how else I could make my voice heard in the EU?"
George from Valetta in Malta posed this question via our website.
Ludovica Sara Fondi, EU Affairs Senior Communication Officer at Europe Direct responded:
"Indeed, the European elections of 22 – 25 May will give voters the chance to influence the political course of the European Union.
If you are a European citizen residing in another EU country, you are also entitled to stand and vote in local elections. However, elections are not the only way for EU citizens to make their voice heard.
When the European Commission considers proposing a new policy initiative or revising existing legislation, a public consultation is usually held.
It is open to all interested citizens, businesses and other organisations, who are invited to express their opinions and use their expertise in order to help shape the future proposal.
In addition to that, you as an EU citizen can express your support for a European Citizens Initiative.
This is an invitation for the European Commission to propose legislation on issues on which it has competence, such as the environment or public health. Once one million citizens residing in at least seven EU countries have expressed their support, a public hearing is held in the European Parliament. The Commission then adopts a formal response, explaining its decision.
Another way to make your voice heard is to petition the European Parliament on issues related to EU policy that affect you directly, in any of the 24 official EU languages."
You can read more about your rights in a brochure called "Did you know? 10 EU rights at a glance" available via the EU Bookshop.
And you can also check out the website or call 00 80 0 6 7 8 9 10 11.
If you would also like to ask a question on Utalk, click on the button below.