Reaching for the reset button in a time of crisis
Comments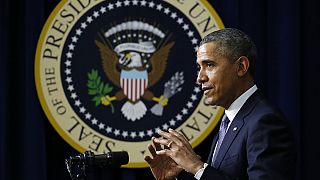 Resetting EU/US relations damaged by the Prism spying scandal, after the US National Security Agency tapped European leaders phones is high on the agenda of President Barrack Obama's forthcoming trip to Europe.
The world's two largest trading partners and allies need each other to tackle global crises, but how can Obama win back trust without looking soft on security?
With European elections approaching Europe's leaders are under pressure to look firm on defending privacy and to take a stand against industrial espionage.
Can Obama and Europe's leaders see eye to eye or will differing national interests prevent a reset? What impact will there be on the current global crises the transatlantic allies have to face.
These are the issues under discussion in this edition of The Network, presented by Chris Burns. His panel includes ex-Clinton administration spokesperson James Rubin, Ian Lesser, senior director for foreign and security policy at the German Marshall and MEP Marietje Schaake, a member of the delegation for relations with the United States.