Goodbye Erasmus, hello Erasmus+
Comments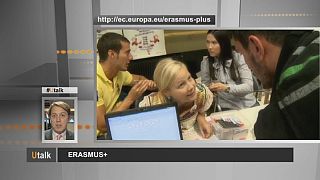 Question from Marie in Marseille, France: "The Erasmus programme almost disappeared last year because of a lack of finance. A new version of the European exchange programme, Erasmus +, will come on line in 2014. What will it consist of?"
Response from Dennis Abbott, EU spokesperson on education:
"Well first of all I don't think there was any risk of Erasmus disappearing last year. There was a problem with the budget, there was a bit of a shortfall, but the Member States mostly made up most of the difference.
In terms of the future, Erasmus+ is a new programme which is going to start in January 2014. It's bigger and it's better than Erasmus.
http://ec.europa.eu/erasmus-plus
Let me explain: Erasmus – I'm sure many of your viewers will know – focuses on students and staff mobility between universities. Erasmus+ still focuses on higher education students mobility but it also includes opportunities to study or train or volunteer abroad for vocational students for apprentices, for teachers, for youth workers and for volunteers.
So it's covering all of our old programmes which were focused on these areas and it's also much bigger in terms of the numbers.
If we look at the previous 7 years: 2.5 million people benefited from grants to study, train, work or volunteer abroad. In the next 7 years, the European Union will pay grant for more than 4 million people to have that experience.
Why we're doing this? We're doing this because we believe that international experience abroad really improves people's skills and their employability."
If you would also like to ask a question on U-talk, click on the button below.