Shale gas: miracle or pipe dream?
Comments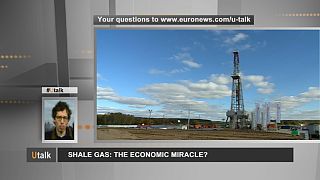 Question: "Is shale gas an economic windfall or just an empty promise? Could a shale gas boom revolutionise the European gas market like it's done in the US?"
Answer: Thomas Porcher, economist, energy expert specialising in the commodities market, and author of "Le Mirage du Gaz de Schiste" (The Shale Gas Mirage) replies:
"To find out whether or not Europe could replicate the American experience, firstly you have to understand that there will never be an energy revolution unless gas prices drop.
"In the United States, gas prices have dropped by a third. That has allowed American industries to be more competitive. Lower energy prices have also contributed to economic growth job creation.
"But there is no evidence that European gas prices will drop as much as they have in the US.
"Firstly, the European gas market is different from the American one. Our market is a lot less flexible, the prices are indexed on oil prices and the contracts are long term.
"Secondly, our extracting costs would be far more expensive than the US because we don't have the infrastructure and European environmental legislation is a lot stricter than in America.
"A recent Bloomberg survey shows that in the UK, the extracting cost would be between 8 and 12 dollars with gas prices at 10 dollars in Europe. So, it's highly probable that gas prices will not drop in Europe.
"The problem in the debate on shale gas in Europe is that we want to go too fast. We thought we could replicate the American experience, but the European population density and landscape are totally different than in the US.
"So I think we should wait until primary studies on economic impacts have been completed, because if shale gas brings no economic benefits and just negative effects on local communities, as far as I'm concerned the debate is over."
If you would like to ask a question on U-talk, click on the button below.