Size does matter in small claims
Comments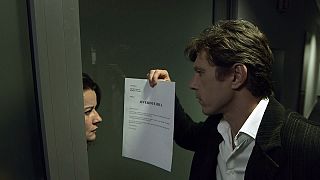 How small is small? That is a question many European lawmakers are asking as they try to ensure that civil procedures aimed at helping people recover money that is owed to them is fast, effective and fair. This is especially true in these tough financial times, when officials report that disputes over money and services or products are on the rise. People are looking for easy and cheap solutions to settle financial disputes, without having to fork out for a lawyer and other legal costs.
The European Commission is about to announce new proposals to overhaul the EU small claims procedure, which is for people caught up in cross-border disputes. One of the big questions has been about the maximum amount currently allowed for a claim; at the moment this stands at €2,000. But many people have been calling for that to be substantially increased, to better reflect the needs of those hoping to settle disputes. Some argue that this would enable more citizens, especially small businesses, to benefit from the advantages of the small claims process.
The UK is one country that has already moved in this direction. Courts in England and Wales now accept small claims up to £10,000 (about €11,730). A reform came into force in April of this year after a public consultation showed that the majority of people agreed the maximum amount of a claim should be increased. Before April the limit was £5,000 (about €5,860). When small claims courts first opened in the UK in the 1970s the limit was just £75 (about €88). However, despite the reform in the UK, in Northern Ireland and Scotland the maximum amount stays the same: £3,000 (€3,520).
The changes in England and Wales are good news for tens of thousands of people who were previously not eligible to make small claims and who faced the expensive prospect of having to hire a lawyer to take their case to court. Experts say in many cases ordinary citizens caught up in disputes often found themselves just over the limit and they had no choice but to give up in their efforts to recover the money. This is also true for small businesses that do not have the means to take court action for small amounts.
There were some other interesting changes included in the reform in England and Wales, which may very well be used as a model for other countries wanting to change their own small claims systems. Judges, for example, now have the discretion to decide that complicated matters should go to a traditional county court hearing, even if the amount in contention falls within the small claims limit.
Officials are also pressing the message that making a small claims application should be a last resort. For example, under the changes that came into force in April, when someone in England and Wales makes a small claims application the case can now be referred by the court to a mediation service. Experts say that in some cases it is better to try to achieve a mediated settlement than get a court ruling. The UK government wants to raise awareness about what it calls the Alternative Dispute Resolution process, which does not in itself involve a formal judicial hearing. However, accepting the result of mediation is not mandatory.
Enabling people to make the small claims application over the internet has also been a big part of the changes announced in England and Wales and other countries are also looking into this. As more and more states move towards the concept of online government services, it is likely that procedures such as the small claims process will be increasingly conducted on the web.
The UK has also established new rules to limit how much it costs for the filing of a small claim, and this is also likely to be an aspect of the proposed reform of the European procedure. Brussels has also been examining what documents need to be provided in cross-border cases, especially in light of the fact that translations are often needed. There is also the question of whether more guidance is needed in the filling in of forms, which is part of overall concern about whether citizens are being made aware of their options in cross-border cases.