Can increased austerity solve the crisis?
Comments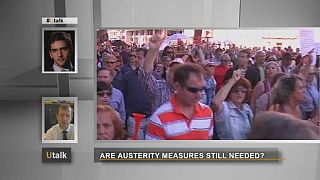 In this edition of Utalk, Daniel from Portugal asks: "How can we increase austerity measures to solve the crisis without sacrificing the middle class and the working class as they are the backbone of our society?"
His question was answered by Daniel Gros, Director of the Centre for European Policy Studies in Brussels.
"It's a very important question. Today I think austerity is no longer needed because the adjustment is almost over. But of course, over the last ten years, over the last fiver years rather, Portugal had to undertake very important austerity measures and a part of the middle class has to be sacrificed."
"It was unavoidable because Portugal has a very large external current account deficit, so it was living from money borrowed from abroad. And that could not go on. So, the acute crisis is over but the real work has only started and will take another five to ten years.
"Countries like Portugal or Spain and others, now have to work to increase their exports. It's only by increasing their exports that they can allow themselves higher consumption and by then increase their standard of living and also their employment."
"Ten years for such a profound adjustment is not a very long period. It does not mean ten years of very high unemployment but it means ten years during which the main focus has to be exports and competitiveness that will allow unemployment to go down, employment to increase slowly at the beginning and much quicker at the end."
If you would also like to ask a question on Utalk, click on the button below.