Is military intervention in Syria legal?
Comments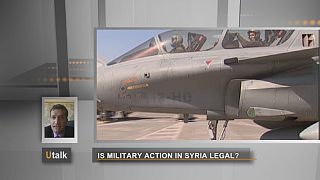 In this edition of U-talk we have a written question from Bruno in Paris who asked: "Is there any legal basis for military action in Syria?"
The reply comes fromThéodore Christakis, Professor of International Law and Director of the Centre for International Security and European Studies, Grenoble.
"There is currently no legal basis for a possible military intervention against Syria. In other words, such an intervention would clearly represent a blatant violation of the principles of international law. According to the United Nations charter, states must abstain from using force in international relations. There are two exceptions: first, in the event of self-defense, but obviously the United States and France can't use that argument because they are not under attack. Secondly, if the use of force is authorised by the United Nations Security Council, which is not the case either, not yet anyway.
"Given the current stalemate, on August 29th the British government published its case saying intervention would be legal under the doctrine of humanitarian intervention and the responsibility to protect. No international treaty authorises the use of force on those bases. Besides, it's very clear: states have always massively opposed rules allowing humanitarian intervention without approval by the Security Council. The reason for this is simple: states want to avoid the risk of abuse, the humanitarian argument having been repeatedly used to justify imperialist interventions in the past.
"France itself has always been a great defender of the principle which forbids the use of force: ten years ago, France opposed the Iraq intervention without Security Council approval. When it comes to other military interventions like in Ivory Coast, Libya or Mali, France has always relied on valid legal arguments. Bombing Syria without Security Council approval would represent a major u-turn in French politics, a change filled with threat.
"I will end by saying that the Franco-American argument that violation of international law – in this case, the alleged use of chemical weapons by the Syrian regime – must be punished by military intervention doesn't work. You don't respond to the violation of rights by even worse violations. Instead of doing this, France and the United States should use their very efficient and ingenious diplomatic skills to work seriously on a solution to the terrible Syrian conflict."
If you would also like to ask a question on U-talk, click on the participate button.