China May Buy European Debt: Is This Good Or Bad ?
Comments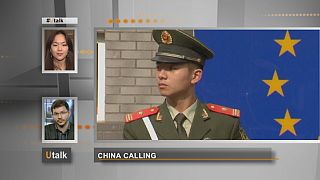 In this edition of U-talk – "Do you think that the European Union will look to China as a future creditor?" asks Nicola (London).
The response to this question is provided by Gregory Vanel, a Senior Economist and Political Analyst.
"What you're asking is whether or not European countries would be interested in China financing their public debts. This is a very good question for at least 3 reasons.
First, in the private sector, we see that for the last 5 years, direct Chinese investment in Europe has been increasing strongly. For instance, Chinese investors have bought part of the Port of Piraeus [Athens], and more recently Chinese companies have invested in Club Méd and Eutelsat.
Secondly, Chinese investment would allow some European countries to lower their long term interest rates.
Thirdly, China has enough money to buy a good portion of European countries' debt. China enjoys huge exchange reserves worth 3,300 billion dollars, that is more or less Germany's GDP.
So, on a technical basis, Chinese investments could indeed help European countries.
Having said that, in the long term, European countries may not be interested in having China buy their debts.
Firstly because China would first and foremost buy debt from the highest rated countries, in particular Germany, France and the UK and China would not necessarily help countries like Greece or Portugal.
But, more importantly, it would imply a very damaging loss of sovereignty [for European countries] because there are at least 3 problems in the relationship between Europe and China:
The first one is about the exchange rate of the yuan which is "undervalued" for several European countries.
The second point is about China's growing influence in Africa. On this particular issue, France's intervention in Mali is clearly meant to stop the growing influence of China.
And the third problem is linked to protectionism, subsidies and what is called dumping by China which harms European companies for instance in the photovoltaic [solar panel] sector".
If you would also like to send a question to U-talk, click on the button below.