Building a common European vision
Comments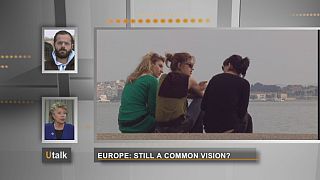 In this edition of U-talk we have a question from Greece.
"Good afternoon. My name is Sotiris and I come from Thessaloniki, Greece. I'd like to know how we can motivate young people to get them interested in the common European vision?"
The answer from Viviane Reding, Vice-President of the European Commission in charge of Citizenship, Fundamental Rights and Justice:
"I don't think you can motivate people intellectually. Of course, young people learn about Europe, and that's very important. But it's with the heart and with feelings that you motivate people. And that's where we have the best tool possible: the Erasmus programme. It has enabled one million young people to study with other youths, to discover other cultures in other universities.
"We're going to add to that an Erasmus for young professionals, because Erasmus should not only be available to university students, but also to apprentices, to young people learning a new trade.
"And then there are extraordinary things like the European Youth Capital initiative. It's Thessaloniki's turn in 2014. And I really hope that youths from all over the world, and especially from Europe, will come to this beautiful country, to this beautiful city, to share this extraordinary adventure, a European adventure, with its livelihood, its cultural diversity and its mobility."
If you would also like to ask a question on U-talk, click on the participate button below.