Education funding gap in Europe
Comments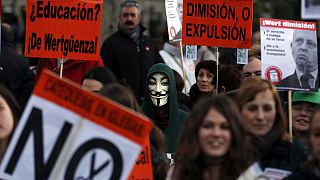 Europe's higher education is in a tight squeeze – between students fighting austerity cuts and fee increases, and the ever-rising costs for teachers, new facilities and research.
The European Union ranks below the OECD average in both public and private funding of higher learning, and part of the budget battle in the European Parliament is the fight for more money for education.
But there is also a trend toward so-called cost-sharing: an increasing number of EU member states are raising tuition and fees. The OECD has long called for more research collaboration with the private sector in Europe, as is done in the US.
Critics say such a solution means selling out academia to market forces – a privatisation of education, which, they say, should be a right for all, not just the privileged few.
Could continued education and web-based learning be among the solutions? Are virtual campuses rendering some bricks-and-mortar universities obsolete? Or is that creating a two-tier educational system, and in turn, a two-tier society?
Wired into this edition of 'The Network' to answer our questions is a panel made up of:
- Doris Pack, Chair of the Parliament's Culture and Education Committee and a member of the EPP Group.
- Lesley Wilson, General Secretary of the European University Association, representing higher education institutions in 47 countries.
- Barbara Ischinger, Director for Education and Skills at the OECD (the Organisation for Economic Cooperation and Development) a forum of 34 industrialised nations.
Join us for a lively debate on the question of higher education funding in Europe.