"Our next goal: to join the Schengen area": Croatia's ambassador to Belgium
Comments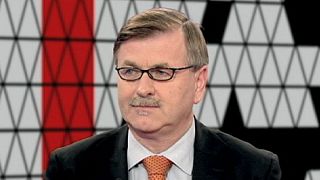 This week, I Talk will discusses Croatia's upcoming EU accession with Mario Nobilo, Croatia's ambassador to Belgium and Luxembourg.
Isabelle Kumar, euronews:
"A spiralling debt crisis, record high unemployment, low trust – it's a wonder anyone would want to join the EU. But after more than ten years of tough negotiations, Croatia has managed to achieve just that, and July 1st looks set to be its date with destiny.
Joining me to discuss this and take your questions is a man who's been very much part of those entry negotiations: Croatia's ambassador to Belgium and Luxembourg, Mario Nobilo."
Isabelle Kumar, euronews:
"Ambassador, many thanks for joining us here on I Talk. We're going to go to our first question now, which comes from Hungary."
Question from Böbe, Hungary:
"Hello, I'm from Hungary. In your opinion, why is it good for Croatians to become members of the EU?"
Isabelle Kumar, euronews:
"It's a very good question isn't it? Because Europe is hardly the most attractive proposal at the moment…"
Mario Nobilo, Croatian Ambassador to Belgium and Luxembourg:
"Well, we believe there is no alternative to Croatian membership to the EU. Historically, we belong to Europe. Also, Croatia is a post-conflict country and the European project is also a project of peaceful cooperation, so there is a message beyond our membership: the stability of the region. And here we have Croatia, a country, a new member with a special task towards the region."
Isabelle Kumar, euronews:
"But Croatia is not in good shape either: your unemployment figures are high, your growth is low, and your investment potential is junk. How can you convince or reassure Europeans that you're not going to be the next country that needs a bail-out?"
Mario Nobilo, Croatian Ambassador to Belgium and Luxembourg:
"Well, indeed. But most of Europe is in crisis, in a recession. And also Croatia is a post-conflict country, we spent billions of euro to rebuild the country after the war. And also, the costly negotiations over the EU have cost our economy a lot. But on the other hand, Croatia, during the Nineties and beyond, proved its vitality, its ability to liberate itself, to rebuild itself, and also to pass through tough negotiations with the EU. We are the first country of the new generation of acceding countries that is entering alone."
Isabelle Kumar, euronews:
"So no bail-out then? You can categorically say that that is off the cards?"
Mario Nobilo, Croatian Ambassador to Belgium and Luxembourg:
"I believe so, because our structural problems are different to those that the EU is facing today in Cyprus or in Greece. They are more or less a consequence of triple transition from war to peace, from one system to another, and there's partly also the negotiations with the EU. But again, our potential is great, we have 70 percent of European average, so I don't believe Croatia is going to be a new problem, in a financial or any sense, for the EU, on the contrary."
Isabelle Kumar, euronews:
"And joining the euro, when is that going to happen?"
Mario Nobilo, Croatian Ambassador to Belgium and Luxembourg:
"Well, that depends very much on the ability and decision of Croatia, the timing, of course, is crucial. It will probably take some time. But in that aspect too, we are euro-enthusiastic, we will join the euro one day, we believe this crisis is temporary, it's going to pass, and our next aim is to enter the Schengen area in several years."
Isabelle Kumar, euronews:
"Ok, we're going to go to our next question and that question comes from Croatia."
Question from Marina and Nives, Croatia:
"Why is the idea of post-accession monitoring undertaken by Croatian institutions for the sake of sustainability of reforms treated as an insult to the nation rather than Croatia's ID as an EU member committed and proactive in promoting the rule of law?"
Isabelle Kumar, euronews:
"So post-accession monitoring… it's kind of a fair enough thing to want to do. Europe is in enough trouble as it is. Is it deemed an insult?"
Mario Nobilo, Croatian Ambassador to Belgium and Luxembourg:
"Well, Croatia is the first country of a new generation of acceding countries, that have passed through very difficult, very demanding, tough negotiations, and so we have to prove our ability, not only to legally integrate a community, but also prove that it's working in reality. So it was meant to prevent post-accession monitoring, because the EU has also learned that the monitoring that was implemented in the cases of Romania and Bulgaria did not really produce change. So, it's not an insult, but the mechanism was set for Croatia to prevent the post-accession monitoring."
Isabelle Kumar, euronews:
"Ok, but corruption has been endemic in Croatia. How can you be convinced that these reforms are going to stay on track?"
Mario Nobilo, Croatian Ambassador to Belgium and Luxembourg:
"Well it has been endemic in some of the core countries of the EU. But we are very tough on corruption. Half of the former government was put on trial, we have serious cases being prosecuted, so I believe it goes beyond EU membership. It's not because of the EU, it is to get rid of all those consequences of war and purifying post-conflict society. It is far more important to us than to the EU."
Isabelle Kumar, euronews:
"But the enlargement commissioner did say that corruption is still a very important issue in Croatia. How do you respond to that?"
Mario Nobilo, Croatian Ambassador to Belgium and Luxembourg:
"Well, there are so many cases going on currently against the former top politicians in the country, but also on another level. It's on a daily basis, there are new cases emerging, and I believe that the anti-corruption campaign in Croatia has a life of its own. We have proved that our judiciary system is capable of handling them. Otherwise, we would not be admitted into the EU, had this been a huge problem."
Isabelle Kumar, euronews:
"But we know that many countries, when they join, slip back. You're not concerned that there's going to be any complacency in that respect?"
Mario Nobilo, Croatian Ambassador to Belgium and Luxembourg:
"No because, you know, we're very sensitive to the consequences of conflict and those who got rich during the conflict here. And this is the key political issue in the country, so I believe it goes beyond, it has not much to do with EU membership, but it's very genuine and it affects the mind of people in my country."
Isabelle Kumar, euronews:
"Ok, well we're going to go now to our final question."
Question from Roman, Ukraine:
"Hello, my name is Roman. I am from Ukraine. I want to ask you a question. Tell me, please: what do you think about the prospects of other countries from Eastern Europe, in particular Ukraine, joining the European Union. Thank you."
Isabelle Kumar, euronews:
"I don't know how well placed you feel to talk about Ukrainian membership to the EU. But what do you think about the enlargement prospects in general? Do you think the EU should press the pause button and take stock, or continue to process?"
Mario Nobilo, Croatian Ambassador to Belgium and Luxembourg:
"Well, people talk about enlargement fatigue, of course, and there is some element of fatigue in the current crisis of the EU institutions, especially financial crisis. However, I believe that enlargement is certainly going to continue in southeastern Europe. We should not leave this black hole or grey area to try for decades, though it will probably take a long time for those countries to join the EU. With the Eastern partners, I am not sure how far that is going to evolve. It is more likely that we will have special relations with our Eastern partners because of geopolitical complexity, but also, probably, because some of them are, even for the EU, difficult to handle…"
Isabelle Kumar, euronews:
"And the other Balkan states?"
Mario Nobilo, Croatian Ambassador to Belgium and Luxembourg:
"Well, I believe they still stand a good chance. Some will do it quicker, some will take a longer time to join…"
Isabelle Kumar, euronews:
"Which will take longer?"
Mario Nobilo, Croatian Ambassador to Belgium and Luxembourg:
"Well, countries like Bosnia, that are very complex internally. Kosovo, in its institution-building, this is going to require a lot of time. Macedonia is also another complex case, internally and regionally…"
Isabelle Kumar, euronews:
"Serbia is also a bit of an issue, for Croatia in particular…"
Mario Nobilo, Croatian Ambassador to Belgium and Luxembourg:
"Well, Serbia has the institutional capacity to move through the negotiation process relatively easily, but it has regional issues that it has to tackle profoundly, Kosovo and others in years to come. Maybe Montenegro, as a candidate country, has better chances to be the next country joining the EU after Croatia. Is it seven or ten years? It's difficult to predict, but they are on a good track, I believe."
Isabelle Kumar, euronews:
"Ambassador, many thanks for joining us on I Talk. You can see who our next guest on I Talk will be on our euronews website, so do keep your questions coming. From the European Parliament studios here in Brussels, thanks for joining us."