Fighting violence against women
Comments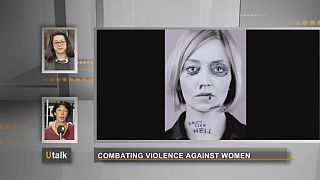 Question from Ana in Brussels:
"Hello. I have heard that one in five women is the victim of violence in Europe. Is that true? And what can be done about it?
Answer by Colette De Troy, Director of the European Women's Lobby Observatory on Violence Against Women:
"Yes, one in five women is the victim of violence in Europe, that's true. To be exact, one in five women is the victim of domestic violence, that is to say the perpetrator is the husband, partner or former partner.
"Which means there are many other forms of violence inflicted on women. For example, if you look at rape: in Belgium, the police receives eight complaints each day. For such a small country, that's a huge number.
"We want to raise awareness about this issue at a European level, since that's the level we work at. We've got to be able to stop and look at this problem, this ever-growing number of women who are beaten or killed.
"It is said that every day, in Europe, seven women die at the hands of their partner, husband or former husband. Seven women killed each day! This has to stop.
"We are asking Europe to implement a European Strategy so that all women enjoy the same kind of protection. A European strategy which would include both legislation and an action plan. We want a European Year against Violence, we want to raise awareness, we want people to talk about it, in order to improve prevention.
"And finally, we want all member states and the European Union to ratify a new Convention of the Council of Europe on preventing violence against women. This Convention sets very important, basic standards, and we want all European countries and the European Union to adopt it."
If you would also like to ask a question on U-talk, click on the button below.