Could France's intervention in Mali spell 'quagmire'?
Comments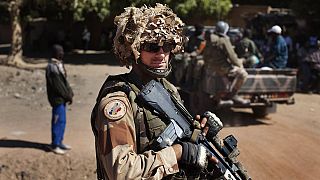 The surprise move by the French government to attack jihadist rebels in Mali followed the surprise rebel advance southward toward the capital Bamako. But could the intervention spell quagmire?
France and other Western countries had been waiting in vain for months for an African force to deploy. The multinational effort was to begin pushing the rebels out of the north where they seized power nearly a year ago, following a coup that weakened the Mali government.
Now, as it props up its former colony, France risks reinforcing the perception of "Françafrique" – supporting corrupt rulers in exchange for trade. But the potential collapse of the Mali government was seen as having dire consequences, of turning Mali into a stateless, lawless "Afrighanistan" sending millions fleeing.
France has secured assistance from several countries, though no boots on the ground. Meanwhile, one rebel leader said France opened the "gates of hell". The risk of quagmire is there.
Wired into this edition of The Network is, here from the European Parliament in Brussels:
- Arnaud Danjean, chairman of the Parliament's Subcommittee on Security and Defence, who has served as a French military analyst and adviser.
From Bamako:
- Philippe Bolopion, UN Director of Human Rights Watch, which has been critical of both government and rebel forces in Mali.
And from the Euronews bureau in Brussels:
- Nicholas Westcott, Managing Director for Africa at the EU's European External Action Service, which has pledged aid for Mali.