Gay marriage: the same rights for all?
Comments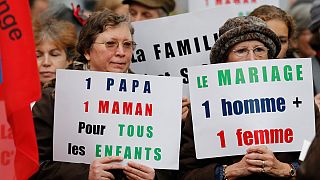 Hello I am Chris Burns. Welcome to The Network. We will be connecting shortly with our guests to get to the bottom of today's issue. But beware, our guests have 25 seconds maximum to answer. Let's take a look at today's topic.
The battle lines are drawn: the defenders of the traditional mother-father family against those defending single parent and same-sex families.
Faced with opposition against homosexual marriage in France, president Francois Hollande backtracked, leaving it up to town and city mayors to decide.
President Hollande's initial move was aimed at making public policy evolve to adapt to demographic change, as has been the case in several European countries for years now.
But in some countries, like France and Spain, the controversy surrounding gay marriage is gaining momentum. Although it is difficult to find statistics on homosexual couples in Europe, more than one third of European children are born outside of marriage – a figure that has doubled in the past 20 years.
Is European legislation and public policy following changes in the way people live together and have children? And what impact will that have on the new generations?
Connected to this edition of The Network are:
- Sophie in't Veld, at the European Parliament.
Vice-president of the parliamentary commission on civil liberties, justice and interior affairs, and member of the intra-group on the rights of homosexuals.
- Joining us from Paris: Frigide Barjot, actress, founder of the "L'Humanité durable" ("Sustainable Humanity" group and the "Manif pour tous" ("Demo for all") organisation.
- and joining us from Liège: Salvatore D'Amore, clinical psychologist and European Research Doctor in Psychology.