Should the EU intervene in Mali?
Comments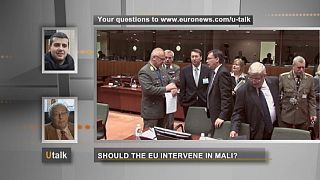 Question: Mathieu, Politics student, Paris:
"I would like to know whether the European Union has the power to intervene militarily in the current crisis in Mali?"
Answer: Bertrand Badie, Professor of Political Science, Paris Institute of Political Studies:
"I think we have to be very careful for several reasons. First of all, in the current international context – Libya and especially Syria have played a very important role in this – foreign intervention is not very popular, it is no longer considered an efficient, credible or legitimate means of political regulation.
"Moreover, consensus is leaning towards an essentially African intervention, we're going back to the old idea of regional security, i.e. it is up to Africans to decide how to restore peace and law in an African country. So, I think we can count on Europe and, generally, non-Africans, behaving very discreetly in this intervention.
"Having said this, it is fair to ask how African weapons alone can resolve such a complex case. It is possible that, in the best of cases, once the forces that have taken over northern Mali have left the cities, once peace has returned to most of northern Mali, then non-African troops could intervene to finish off the work, to get the country going again. That is a possibility.
"That would require discussions within Europe, and I am not sure, that, in the current context, there would be a true will to take part in such an intervention. Germany – whom we know plays a pivotal role when it comes to taking decisions at a European level – has held a non-interventionist stance ever since reunification. We saw this in Irak and again in Libya.
"Considering that the situation in Mali is less straightforward than the Libyan case, at least from the start, we can expect the EU to be very prudent, not to say openly against the idea of any intervention."
If you would also like to ask a question on U-talk, click on the button below.