U-Talk goes for a drive around Europe
Comments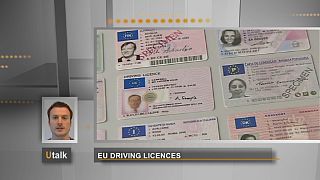 From 2013 all EU member states will start issuing driving licences in a common format. But what will happen if, say, an Austrian driver moves to Germany? What will happen to his or her Austrian licence? is there really going to be one licence for all?
"You are right! A new harmonised EU driving licence model will be issued in all EU Member States from 19th January 2013 onwards. This harmonised model aims at further facilitating free movement of citizens in the EU," says Europe Direct's Communications officer Frederik François.
"The new driving licence is in the form of a credit card and will be valid between 10 and 15 years for private drivers, depending on the Member State.
EU Member States have to ensure that all driving licences in circulation will conform to the new EU driving licence model by 2033 at the latest.
You do not need to retake your driving licence tests as you will keep all your driving entitlements.
If you already hold a driving licence, you should follow the rules applicable in your Member State of residence as regards the procedure of exchanging your driving licence for the new harmonised EU model.
If you move to another EU Member State, in principle, you do not need to exchange your driving licence for a local one since all driving licences are mutually recognised within the EU.
However, if you move to another EU country and establish your residence there, you will need to exchange your licence for a local one once it expires.
If you hold a driving licence for life and have established your residence in another EU country, the host Member State may require you to exchange your licence for a local one after two years. You will then be subject to the same rules as nationals of that country regarding validity periods, medical checks and so forth."
For more information about the EU, call 00 800 6 7 8 9 10 11 or check out the website:
europa.eu/youreurope
If you would also like to ask a question on U-talk, click on the button below.