What is the European Youth Parliament?
Comments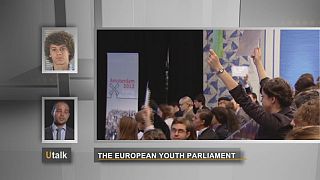 On this edition of Utalk Lucien from Dardilly in France asked:
"I've heard about the European Youth Parliament (EYP), but what is it exactly?:
The response comes from Ville Vasaramäki, the Executive Director of the EYP, he says:
"The European Youth Parliament, offers young (15-20 year-old) people in 41 European countries a positive, intensive, international learning experience.
"We invite more than 20,000 young people every year to come together in sessions all over Europe on local, regional, national and international level.
"The core activity of EYP are the sessions. Every session has three parts: we start with team building. EYP is all about getting to know each other, getting to know your young peers in other European countries.
"After team building of course the real work starts: the committee work. We always have committees, they are modelled after the committees of the European Parliament.
"We don't only discuss the affairs of the youth, we discuss the big topics that everybody in Europe is dealing with today.
"After the committee work, we always organise a general assembly.
"We vote, we debate and then – when we have a set of resolutions that have been approved by the general assembly – we send them on to the European institutions, to local politicians, to the Council of Europe, to many institutions. We want to bring forward the voice of young Europe.
"At the moment we don't have any formal institution that listens to the young people on the European level and we try to of course compensate with this with our resolutions.
If you would also like to ask a question on Utalk, click on the button below.