Can companies apply for tenders for works contracts in other counties?
Comments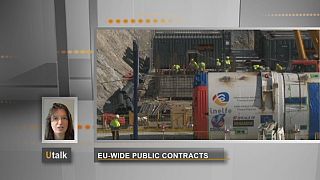 On this edition of U talk Itsván from Budapest asked:
"I run a construction company in Hungary and would like to know if we are allowed to participate in tenders for works contracts launched by Slovak municipalities. Where can I get more information about the on-going calls?"
Responding to this question is Isabelle Dochydu a Europe Direct Information Officer, she says:
"Any company based in an EU country can freely bid for public authorities' contracts in other EU countries.
"Moreover, to facilitate access to public procurement markets for foreign companies the EU requires public authorities to use harmonised, transparent procedures for selecting contractors.
"A set of EU rules does regulate public contracts for public works, supply and service and procurement procedures of entities operating in the water, energy, transport and postal services.
"Defence contracts and contracts for services of general interest – such as energy, telecommunications, transport, radio and television, postal services, schools, health and social services – are still largely covered by national legislation.
"Under these rules, all calls for tender over a certain value must be published in the EU's Official Journal and are accessible free of charge via the Tenders Electronic Daily (TED) webpage (ted.europa.eu).
"The information is published there in all of the official EU languages. For works, calls for tenders above 5 million euros are published in TED.
"If your company is a small or medium enterprise, you may consider this amount too high. But sometimes the work is to be subdivided into several lots and the notice explains the essential characteristics of those lots, and it tells you if it is possible to tender for one or several lots only.
"Also, the contract award notice contains the name and address of the successful economic operators and, where appropriate, the value and proportion of the contract likely to be subcontracted to third parties.
"Calls for tenders of lower value than the EU thresholds are not published in TED. But on the SIMAP portal – http : // simap.europa.eu – where you can find links to the national procurement databases.
"For further information on EU public procurement rules you can get in touch with your nearest Enterprise Europe Network contact point, which you can find via the network website.
"Network partners may also help you in finding partners, if you want to apply to a call for tender in a consortium."
For more information about the EU, call 00 800 6 7 8 9 10 11 or check out the website:
europa.eu/youreurope
If you would also like to ask a question on U-talk, click on the button below.