How will Obama's second term effect Europe?
Comments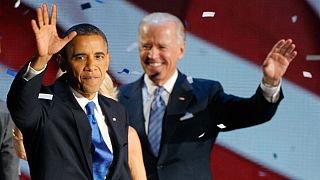 It was a hard fought campaign, the most expensive in history and despite President Obama's re-election the country remains deeply divided, with the Republicans still controlling the House of Representatives.
Domestically the so called 'fiscal cliff' comes in January. Automatic spending cuts and tax increases if there is no new budget agreement. Those cuts could trigger a recession with a global impact.
After all the China bashing during the campaign how will the President appease calls to crack down on China's huge trade surplus without triggering a trade war.
In civil war racked Syria is it time to intervene? The same for Iran's nuclear programme that edges ever closer to bomb making potential.
In Eastern Europe, what is the future of missile defence? How will he pursue relations with Russia under a new Putin presidency?
How will those issue impact Europe? What should be Europe's approach towards Obama's second term? Will there be any honeymoon at all?
Wired into this edition of the Network is: Rafal Trzaskowski a Polish MEP who is a member of the delegation for relations with the United states, Mike Kulbickas. Chairman of the Republicans Abroad in Belgium and Matthew Newman spokesperson for Democrats Abroad.