French suburbs: 30 years of tensions
Comments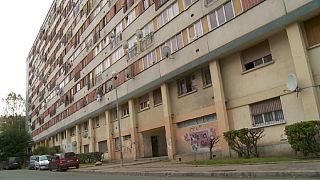 Seventeen years after "la Haine" - Mathieu Kassovitz's iconic film about life in the French suburbs - and 30 years after the first riots in those suburbs, the problems remain the same.
 
Europe has a unique cocktail of unemployment, school drop-outs, ghettoisation, discrimination and resentment, which fuels an underground economy, the rise of radical Islam, anger and violence. 
 
In 2005 further riots seemed to mark a turning point but once again virtually nothing changed. Residents of these areas say that urban renewal projects just cover things up, that improving the facade does not solve and problems.
In Clichy-sous-Bois, a Paris suburb where there were large riots seven years ago. The area continues to deteriorate. Over the last three decades there have been many reports on the area, and the people have become distrustful. The media, like the police, are not welcome there and many told the euronews team to leave and that no-one would talk to them.
 
But out of sight, Abdel did agree to talk. Born and raised in Clichy, he is a self taught computer graphics designer and his company is getting off the ground slowly but surely. Abdel says the roots of the problems for his generation as well as the older generation can be found in the history of France:
 
"It's as if France was my father and I was an illegitimate child that he refuses to recognise. Our parents paid their taxes like everyone else, and then were cast aside. They were needed to rebuild France after the second world war but now they're no longer wanted, they're saying 'get out of here, we don't need you any more.'"
 
He also says that despite growing up in Clichy, he does not feel French: "Honestly, not at all, I live in France, my culture is French, but when I have problems or when I see that I need help, they're not there for me."
 
It is clear that discomfort is more pronounced in populations from old colonies. A historical resentment that does not fade, fed by everyday racism and isolation. Young people in the suburbs are thought of as Arab or black, uneducated, disrespectful and ready to burn cars at the first opportunity.
 
French politician, Benoit Hamon, is trying to improve the reputation of these areas:
 
"Basically, people think suburban equals young, equals hoods, equals a mess. But one can wear a hood without going out to steal old ladies' handbags. The suburbs are always portrayed with a big S as a place not to live, where people are unhappy, they have no job, where people quit school early, but that's not the reality. That's not to say there are no problems, but the suburbs are not only problems, and if we stop thinking of them like that, it'll make everyone feel better."
 
Michèle Picard, the Mayor of the Lyon suburb of Venissieux echoes these feelings:
 
"We're always interested in the suburbs when it's going badly. There's not so much interest when things are better. When our crime figures are good it's not reported. It shouldn't be swept under the rug trafficking and so on, but at the same time our neighbourhoods should not be summarised as only that."
 
Hapsatou Sy has faced has faced many obstacles in her life. The 24-year-old grew up in the suburbs with eight siblings. She opened her first beauty salon at aged 17.  A very young entrepreneur, full of spirit, she rejects the idea that young people from the suburbs can't succeed:
 
"I'm sick of these people being thought of as low lives, I think the day you stop saying, 'Look it's the entrepreneur who grew up in the suburbs,' or 'It's the black businesswoman' it'll be a big step."
 
"I'd say someone who comes from a place which is extremely, poor and difficult is someone who's been hurt by life and who may be aware of certain things that others who were born with a silver spoon are not aware of.
 
"I had this mindset because I saw my father leave the house at 6am every day to make minimum wage with incredible pride. He never moaned, I never heard him complain so when you're handed life on a plate, well you do something with it."
 
Hapsatou is undoubtedly a role model, even if she rejects this status. But how can young people be saved from a vicious cycle, where they fail at school and look for easy money in all kinds of trafficking and sometimes get involved in radical Islam which thrives on those who are excluded.
 
Mohammad Mechmache of the community pressure group AcLefeu is trying to buck the trend:
 
"There is not one priority greater than another, it is the set. Housing, employment, school this is the priority. You have to start with the basics, work with young people, help them best you can. To ensure when they finish national education they know and respect the rules. Because unfortunately at 11 years and 12 years old it's the age where things can change. Where they start hanging out in the streets and start being involved in the underground economy."
 
One thing is sure, in 30 years in France neither the right nor the left has put an end to suburban unrest or the disillusionment of young people who are born there.