What has the single market done for us?
Comments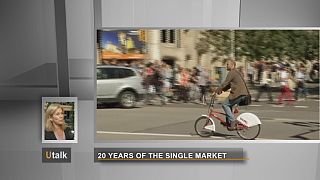 The question on this edition of U-talk comes from Anja in Berlin:
"As the single market celebrates 20 years in existence, I wonder what it has done for us European citizens?"
Responding to this question is Regina Bastos a Portuguese MEP with the European People's Party group:
"During these 20 years there has been tremendous progress for citizens and businesses. Citizens benefit from lower prices, better quality and a wider access to services.
"They can travel, live and work in any member state of the Union, and that freedom of movement is a great achievement and greatly simplifies the lives of citizens. Talking of companies, they benefit from a market of 500 million consumers.
"There are also problems, problems clearly identified by citizens and businesses. Citizens are still struggling to understand what their rights are. For example registering a vehicle in another member state is a difficult and slow process.
"Citizens also have difficulty obtaining reimbursement of medical expenses paid to a hospital in a member state other than their own.
"Or for example when opening a simple bank account; a Portuguese Erasmus student who is studying in Belgium and wants to rent a flat. The landlord asks for bank details, but the bank will not let him open a bank account without a proof of residence.
"These questions which ought to be so simple are still causing problems and hamper the proper functioning of the internal market.
"These little obstacles are primarily caused by citizens lacking information about their rights, the complexity of simple things must be removed and there is also the political will of member states to describe the laws and directives that allow the internal market to function fully.
"These are problems that have still got to be solved."
If you would like to ask a question click the button below.