Youssou N'Dour on why he switched to politics
Comments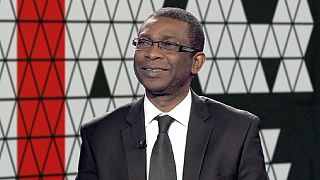 This week, I-Talk welcomes musician-turned-politician Youssou N'Dour, Senegal's new minister for culture and tourism.
After making a name for himself as one of Africa's most famous musicians, N'Dour has turned to politics and joined Macky Sall's government in April 2012.
Alex Taylor:
"Have you got used to being called 'Monsieur le Ministre' for the past six months?"
Youssou N'Dour :
"Yes, but I think what matters is what you are doing for your country."
A. Taylor :
"That's precisely the meaning of the questions we have chosen for I-Talk. Let's start with this one:
Question from Lambahna, Brussels:
"Hello, my name is Lambahna, I am from Guinea and I live in Brussels. I have a question for Youssou N'Dour: I used to listen to your music. Don't you regret having left music for politics?"
Alex Taylor:
"Are you already regretting it? You only joined the government back in April."
Youssou N'Dour:
"Yes, it was in April. I think, as I was saying from the start, what you have to look at is how I became involved in my country. It's a long story, but I think young people need a framework, they really need support and to feel they are involved, and so those are the lines I've been thinking along."
Alex Taylor :
"But at some point, there is a personal decision. Was there a point when you thought, I want to help my country, Senegal?"
Youssou N'Dour :
"Yes, through music, I've always sung and talked. I think there came a time when I felt the need to bring a small contribution thanks to my experience."
Question from Sara, Romania:
"My name is Sara, I am from Romania, my question is whether you think that you have a greater impact on youth through your music or through politics."
Youssou N'Dour :
"I think they work together. I think you forget about yourself when you're committed to your country. Music is a part of your country, that's how I see it. So personally, that's how I experience it, I feel that's how I contribute to my country."
Question from Sarah, Belgium:
"Hello, my name is Sarah, I'm Belgian, I would like to know how you view the humanitarian relation between Europe and Africa in the long term?
Youssou N'Dour:
"From a humanitarian point of view, we need to respect each other. I also think Africa is opening up. For example, look at China gaining ground in exchanges with Africa. You in the West fund a lot of things, we don't."
Alex Taylor:
"It's becoming increasingly difficult and it's the source of much internal debate."
Youssou N'Dour:
"You still fund a lot of things. We don't because we don't have the means, but I think relations between Europe and Africa need to be balanced out. There are ways of doing things. For instance, asking us what we need, so we can say what it is we need, that's how Europe can help us. Imposing decisions doesn't work and has never worked, but that's the kind of relationship that's been going on for many years."
Alex Taylor:
"Does the presence of China, of Chinese investment, represent a threat?"
Youssou N'Dour :
"No, I think, like I said, that China, and Asia as a whole, are asking us what we want, and act according to what we want. I think we need to balance out relations between Europe and Africa by saying 'Look at what Africans want.'"
Question from Pedro, Portugal:
"Dear Mr N'Dour, congratulations for your first six months in cabinet and best wishes for the future. What is your level of concern about the current problems in Mali and to what extent do you think Europe and the Western world should take a more pro-active position on the problem?"
Youssou N'Dour:
"I think we need to put things into perspective. I am in charge of culture and tourism. Culturally, Africa has always called for dialogue. As soon as conflict broke out, President Macky Sall, his Excellency Macky Sall, told us to spread the word, talk with our counterparts and encourage dialogue. We believe in dialogue, because African history goes back to before colonisation, the Mande charter, so we are calling for dialogue. In fact I am getting in touch with my counterparts all over Africa to try to spread the message and get the population involved. I think such an approach will improve understanding, we believe in it, and as far as we are concerned, we try to promote dialogue. Culture transcends conflict, it's a way of trying to talk to each other."
Question from Jean-Marie, Brussels:
"Hello Youssou, I am Jean-Marie from Brussels. I would like to ask you what you think of US policy towards Africa, and do you support Obama or Romney in the 2012 election?"
Alex Taylor:
"Are you going to take sides?"
Youssou N'Dour:
"No, I can't do that. I am here as minister of Senegal and the voice of Senegal is very important, I cannot intervene in internal politics or in the US campaign."
Alex Taylor:
"Do you favour one of the two candidates?"
Youssou N'Dour:
"I can't answer that question here. I believe America is a solid partner, we want America to remain strong, and we want America to continue advocating what I call the balance between Africa and the United States. There is a lot to say and we don't have much time to develop it here, but I hope these elections will allow the candidates to talk about Africa and to reconsider relations with Africa."
Question from Kenza, England:
"Hello, my name is Kenza, I am English, my question for Youssou N'Dour: what do you intend to do to help children in Africa?"
Youssou N'Dour:
"Well it's as I said: how do I get involved? I have always said young people need a framework, they need to be made aware, they need to get involved. Children need to be protected, and that's where we are involved, under instruction of the president and the prime minister of course. We work together with the ministry in charge of childhood, for young people as well, we try to bring a breath of fresh air, by giving them hope, caring for their education – I think education is the foundation. We musn't forget our roots either."
Alex Taylor:
"Would it be easy to go back to music if you left your position at the ministry?"
Youssou N'Dour:
"Music will always be my passion, it will always be a part of what I do. I have sung a lot of songs aimed at our leaders and the people. I think my songs live on, I still feel the passion, and when I will find time for it, I will do music again. But today, I am focussed on my country, Senegal, the land of Teranga, which is something you can't explain. Senegalese Teranga is hospitality, it's the only country in the world which is known as the land of Teranga, even the lions are called Teranga lions. If you haven't been to Senegal before, I am inviting you and your team so you can see what a beautiful and welcoming country it is."
Alex Taylor:
"I have been several times and I can confirm what you're saying. Thank you very much for answering our questions here on I-Talk, Youssou N'Dour, and thank you to the European Parliament's audiovisual department here in Brussels. Please join us again soon for another edition of I-Talk here on euronews."