Is an EU identity card on the cards?
Comments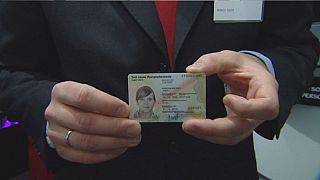 Question from Mario, Austria:
"Hello my name is Mario, I am from Austria and I would like to know whether there are any plans in the near future for a common ID card for all EU citizens. Thank you."
Answer by Christophe Chabrot, Senior lecturer in Public Law, University Lyon 2, France:
"Well, an ID card is an official document handed out by authorities in a given country, which shows your identity and your nationality. It's sometimes needed for administrative purposes, or even between two people to certify a transaction, such as a check for instance.
"In the European Union, free movement and growing trade relations between member states is an incentive for citizens to acquire a document allowing them to prove their identity, in a reliable and simple way, both physically and on the internet.
"Plans to create a European ID card were dropped in early 2000 due to technical, administrative and political obstacles. Instead, the experimental project STORK (Secure idenTity acrOss boRders linKed, https://www.eid-stork.eu/) was introduced in May 2008.
"Relying on volunteer states, the aim of the project is not to create a single ID document, but to integrate common electronic elements into national ID cards which could be used in every partner state, of which there are 18 right now. It's what you call interoperability.
"This project was relaunched in June 2012 and extended to companies for administrative purposes. It includes a secure electronic signature in order to authenticate online transactions.
"This experiment could lead to a common European ID card, in addition to, or replacing, national ID cards.
"For now, however, the aim is to harmonise national ID cards so they can be used physically or virtually in all member states.
"This practice is easier to put in place but could represent a lost opportunity to really develop a sense of European identity with single a European ID card."
If you would also like to ask a question on U-talk, click on the button below.