The Network: US election showdown
Comments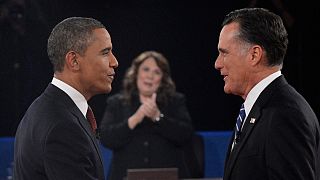 The US presidential election has been a tight horserace, with Mr. Obama and Mr. Romney slugging it out over each new set of economic results.
But how about their foreign policy? On trade, on relations with Europe? The world's two largest trading powers are economically joined at the hip, with a crisis in one deeply affecting the fortunes of the other.
If Europeans could vote, whom would they choose? An incumbent Democrat more inclined to regulate and steer the economy through state intervention, or a more laissez-faire Republican?
What of the global hotspots? How to deal with Iran's and North Korea's nuclear programs? How to halt bloodshed in Syria and seek regime change? How to withdraw from and stabilise Afghanistan and Iraq, as well as try to solve the Israeli-Palestinian standoff?
Who is more likely to see eye-to-eye with the Europeans on those issues? Or are some analysts right that US and European interests are decoupling – that the US is increasingly looking toward Asia, and Europe toward its own backyard?
From Warsaw:
Rafal Trzaskowski, a Polish member of the European Parliament, a member of the EPP Group – the European People's Party that includes his Civic Platform. He is on the parliament's delegation for US relations.
Here at the European Parliament in Brussels:
Véronique De Keyser, a Belgian MEP who is with the Alliance of Socialists and Democrats. She serves on the Development Committee and the Subcomittee on Human Rights.
And also here at the European Parliament:
Marietje Schaake, a Dutch MEP who is with the Alliance of Liberals and Democrats for Europe. She also serves on the Parliament's delegation for US relations.