Harmonising food prices in Europe?
Comments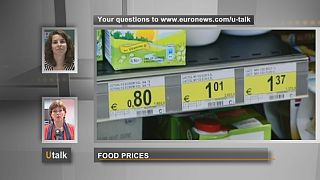 With ISEG
Question by Mathilde in Lyon, France:
"Would it be possible to harmonise the price of basic necessities across Europe?"
Answer by Monique Goyens, Director General of the BEUC (European Consumer Organisation)
"In order to protect consumers, it isn't a good idea to harmonise prices throughout the EU.
Because even if we have a European union, the cost of living varies hugely from country to country.
For example, the average gross salary in France is 2,800 euros. In Bulgaria, it's 350 euros. So it would be really unfair for the Bulgarians and for all those, who are below the average, to have harmonised prices.
The real solution is make sure that the authorities who supervise the market have the means to track down monopolies and cartels who fix prices among themselves."
If you have a question for Utalk, please click on the button below.