European Parliament - time to end the costly travelling circus?
Comments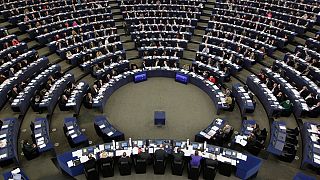 It is a symbol of post-war reconciliation. The European Parliament is built along the border of Europe's once bitterest of enemies from wars that killed millions.
It is part of the reconciliation between France and Germany to share power as an engine behind the European Union, with Germany having the seat of the European Central bank.
However, it is also very costly, estimated at over 200 million euros a year to maintain the complex of buildings and to transport more than 700 MEPs, thousands of staff and tonnes of materials 400 kilometres from Brussels – it is known as the travelling circus.
In times of tight budgets, calls are rising to shut down the Strasbourg parliament.
The French government insists the two seat concept is enshrined in treaties sharing institutions across the EU. Some fear revamping those treaties would re-open a political Pandora's box, sparking conflict over who gets what institution.
Others say shutting Strasbourg would be a strong symbolic gesture of solidarity with those hurting from budget cuts and would fight the image many Europeans have of a wasteful EU.
Wired into this edition of The Network is Rainer Wieland, Vice President of the European Parliament and a member of the EPP group, he supports the parliament being in Strasbourg.
Also on the programme, Edward McMillan-Scott who is Vice President of the European Parliament and a member of the ALDE group as well as co-chair of the 'Single Seat' campaign.
Jonathan Isaby is The Network's final guest. He is Political Director of the Tax Payers' Alliance, which wants the parliament to be based only in Brussels.
Click on the video link above to find out what they have to say