Splitting Europe into a two-speed EU
Comments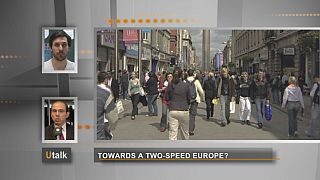 With ISEG
Jean-Phillippe of Lyon asked: "Would it be possible to have a Europe split into two, a two-speed Europe? And what would the uses and benefits be for the rich countries and the poor ones?"
"In the 27 nation European Union there are already different speeds, because certain countries take part in certain projects, certain public policies, and others don't," explained Pascal Delwit, Professor of Political Science at the Free University of Brussels.
"I'll take two examples: the eurozone does not concern all the EU member states, but specifically the EU countries that have taken the euro as the common currency.
"Another example is the Schengen Agreement, that affects a certain number of countries with the free circulation of people among those countries, but not all are in the Schengen zone.
"So already, there are Europes of differing speeds. Whether we could split the EU of 27 nations into two European Unions – one rich EU and one poor – is highly improbable. Politically it would be extremely difficult to defend, and doubtless very few states would agree to go down that route.
"Then also, we mustn't forget that those considered as rich or poor states at any one moment could change in time. Today for example, Spain and Ireland are thought of as countries in difficulty, even great difficulty – financially, economically and socially. But look back four or five years and they were presented almost as model states. Ireland was talked about in extremely glowing terms, so in material terms things can sometimes change.
"So I'd say that at first glance there's very little chance that the EU is heading for a split in two between rich and poor countries."
If you would also like to ask a question on U-talk, click on the button below.