The chance of European intervention in Syria
Comments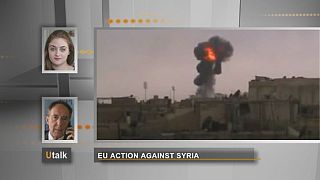 The question in this edition of U-talk comes from Marianne in France.
"I'm Syrian-born French, and I'm worried about the fate of my country. I'm wondering if I can hope for political or military intervention by the European Union in Syria?"
Responding to this question is Italian, Paolo Magri, Director of the ISPI (Institute of International Political Science)
"The possibility of a European only military operation in Syria is extremely low. Not only for military and strategic reasons but also political and economic.
"Strategic and military because, as we saw in Libya, the European military is not able to act alone without US technology, even in relatively simple scenarios such as Libya, so imagine in Syria. And for political and economic reasons, because Europe is focused on its own crisis.
"As we've seen in recent elections it is difficult for a European politician to justify an expensive and difficult operation to his constituents, while this situation is serious, it is also considered remote, and far away.
"What is conceivable is that Europe should pursue its policy of sanctions, economic sanctions, which were and are difficult for the Syrian regime, because Europe is the largest trading partner of Syria and its largest importer, the EU imports 95 percent of Syrian oil.
"This could change if the Annan plan completely fails and if, following this, Russia and China decided to withdraw their vetoes. At that time there would probably be cause for a military peacekeeping mission under the UN umbrella, and in that case – although it is still far away – it's possible that some European countries would contribute to that force. "
If you wish to ask a question click on the button below.