What is the European Citizens' Initiative?
Comments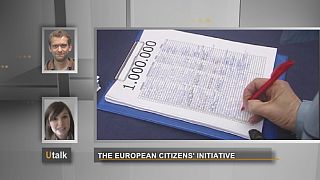 In this edition of U-talk, Damien, from Lyon, France, poses this question:
"I was recently approached in the street and asked to sign a European Citizens' Initiative to improve animal protection in the European Union. The organisers explained that if they got enough signatures the European Commission would be obliged to study the matter. Is this true?"
Malgorzata Kurowska, Senior Communications Officer for Europe Direct, responds:
"Indeed, as from 1 April 2012, the new European Citizens' Initiative allows European citizens to be more directly involved in the legislative procedure of the European Union. It will let them invite the European Commission to propose a new piece of legislation.
"To get started, the interested parties need to set up a special committee. This committee has to be made up of at least seven EU citizens who are old enough to vote in European Parliament elections and living in at least seven different European countries.
"The committee, acting as an official organiser of the initiative, then needs to register on the special website of the European Commission.
"The European Commission then has two months to verify if the provided data are correct and if the issue concerns matters where the EU has the competence to act and then it will validate the registration.
"After the initiative is registered, the committee can start collecting statements of support from the European citizens. The organisers have one year to do so. The statements can be collected either on paper or electronically. The initiative has to be supported by at least one million European citizens coming from at least seven different EU member states.
"Once the competent authorities have certified the statements of support, the initiative can be submitted to the European Commission for its consideration.
"Finally, in the three months after the submission of the initiative, the organisers have the opportunity to present their initiative at a public hearing in the European Parliament.
"After this, the European Commission will adopt its formal response, spelling out what action it will take with the initiative, and also the reasons for doing or not doing so.
"If the European Commission decides to follow the initiative, then the legislative procedure can start."
For further information, you can visit the website on the European Citizens' Initiative at ec.europa.eu/citizens-initiative.