Air strikes or talking - how to deal with Iran
Comments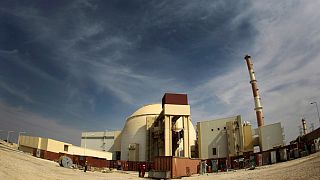 'Hello I am Chris Burns and welcome to the Network where we connect into a matrix of newsmakers to get to the heart of an issue and watch out they have to answer in 25 seconds or less or else. Lets take a look at that issue right now.
'As Iran's uranium enrichment escalates, so do the threats on both sides. The world's third-largest oil exporter claims all their nuclear development is for peaceful purposes.
'The European Union and countries around the globe have agreed to tighten sanctions, believing Iran is getting ever closer to developing an atomic bomb. Israel talks about air strikes to knock out Iran's nuclear potential; the United States won't rule them out.
'Tehran threatens to shut down the world's most important oil route through the Strait of Hormuz and to wipe Israel off the map.
'Some argue Iran's nuclear tough talk aims to rally public support behind the government that has cracked down on dissent amid economic hardship.
There's a glimmer of hope from promises of new talks, even if past negotiations led nowhere.
Some say they may just be buying more time for Iran to build a bomb that some fear could trigger a nuclear arms race in the region.
'Now wired into this edition of the Network is a trio of professors as top officials have refused to go on the programme. Perhaps these professors will speak a bit more freely.
'So here from the European Parliament in Brussels is Professor Joachim Koops he is a Director of the Global Governance Institute at the free university of Brussels.
'From Tel Aviv, Meir Litvak Professor Meir Litvak – Director of the Centre for Iranian Studies at Tel Aviv University. He says Israel faces a real dilemma over whether to launch air strikes.
'And from Catania, Italy Professor Reza Taghizadeh. He is an Iranian affairs analyst and expert on nuclear issues who teaches at the university of Glasgow."