Should Herman Van Rompuy get more of the EU spotlight?
Comments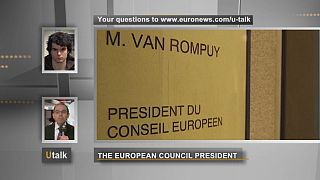 Florian, a student from Brussels asks:
"Do you think it's a problem that Van Rompuy isn't as visible as other leaders in the EU like José Barroso? He is after all the President of the European Council, so surely he should get more of the spotlight?"
Delwit Pascal, Professor of Political Science at the Free University of Brussels answers:
"In fact, the President of the European Council is a new position and it should try to combine two things fundamentally and formally. The first and this is why the function was created, is to lead the European Council, to overcome the difficulty of the six monthly Presidency rotation and to ensure continuity. The second is to be a part of the institutional landscape of the EU and to be a part of the Member States without getting too much attention. This is similar to the position of José Manuel Barroso, the President of the European Commission. From a media point of view, it's important not to take too much attention away from the Heads of State and Government.
This is especially true with the main states: Germany, France, Spain, Italy and Great Britain.
These countries don't want to be in the background or come second to anyone, they want to be right at the front. Herman Van Rompuy fully endorses this. He has to be sensitive towards this and keep somewhat in the background to assure continuity and coordination with all the heads of state and government. He has to do this without encroaching on anyone, especially of course during the preparation and outcomes of the European Council's meetings."
If you want to ask a question, visit our website euronews.com / u-talk."