Putin - Al Capone or a strong leader?
Comments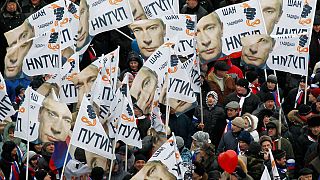 Euronews Chris Burns leads a discussion on the forthcoming elections in Russia.
Chris Burns: "Hello I am Chris Burns and welcome to The Network where we connect into a matrix of newsmakers to get to the heart of an issue, and watch out they have to answer in 25 seconds or less, or else. Let's take a look at that issue right now.
'Many Russians used to talk about emigrating. Now they are standing and fighting for more democracy, less corruption, more opportunity and a land without Vladimir Putin as president. Mr. Putin looks set to win handily a third term as president on March 4 succeeding his hand-picked stand-in Dimitry Medvedev. For many Putin remains the strong figure who ended the chaotic post Soviet era and brought stability but the December parliamentary elections seen by opponents as, "stolen" turned huge numbers of demonstrators out on the streets.
'Putin had promised to fight corruption but crony capitalism rules on. Despite Russia being the world's biggest oil producer 17 percent of the population live in poverty. Putin opponents contend another two terms with him would mean stagnation. His supporters say not to forget those wild days before he came to power.
'Wired into this edition of the Network is, from the European Parliament in Brussels Vladimir Chizhov the Russian ambassador to the European Union who says Mr. Putin will, quote, "win in the freest and fairest election."
'From Dubai Russian opposition leader, Gary Kasparov former world chess champion and former Russian presidential candidate who is quoted as saying Mr. Putin is like Al Capone.
'And from Moscow Lilya Shibanova head of the Russian independent election monitoring group GOLOS accused by pro-Kremlin media as being a subversive agent of western powers."