How will Spain fix its economy?
Comments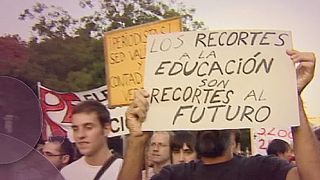 From the streets, anger and frustration. That 8 years of a socialist Government plus a financial crisis and real estate meltdown have left Spain with 21% unemployment.
Among youth, the jobless rates tops 45%. Many of them, "indignados", who march all the way to Brussels to protest their plate. Spain's 35 million voters face a right and left, both promising austerity. The Popular Party (PP), led by Mariano Rajoy, is saying little about where they'll cut.
Both Rajoy and Socialist leader Alfredo Pérez Rubalcaba promise to cut the public deficit from 6% of GDP this year, to the eurozone mandated 3% by 2013.
Already the Socialist government of José Luis Rodríguez Zapatero raised sales taxes, froze pensions, increased the retirement age and cut public workers wages, sparkling widespread protests. Another issue for the next Government: how to deal with Basque militants, who just announced an end to their bloody fight for independence.
In this edition of The Network, from the European Parliament, here in Brussels, José Manuel García Margallo, European MP and vice president of the Economic and Monetary Affairs Commission.
From Madrid, Diego López Garrido, Spanish Secretary of State for the European Union, and from Barcelona, Xavier Sala i Martín, professor of economics at Columbia University since 1996.