Is the European Union a 'Christian club'?
Comments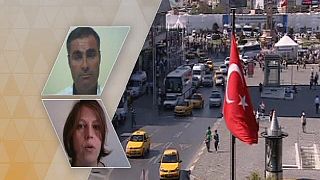 In this edition of U talk Ali, from the Turkish Republic of Northern Cyprus, asks: "…if the European Union is a "Christian club" and that's why you don't accept Turkey and the Turkish Republic of Northern Cyprus as members?"
Dorothée Schmid, with the French Institute of International Relations, responds: "The expression Christian Club has been used quite often by Turkish analysts or politicians when they talk about their relations with the European Union, ever since the very beginning of negotiating entry. So, even from the start, the Turks feared being rejected by the EU for cultural, or more precisely religious reasons.
"We know that in reality, in the European constitutional treaty there are no religious references, so it's not a question with any validity in European law. But it's a question to be asked of EU members at the national level, and of public opinion in these countries. We see in surveys today, notably the latest Eurobarometers, that only 30% of Europeans are in favour of enlargement to include Turkey.
"It's pretty obvious that if we look at the political landscapes in different member states it is linked to the rise of the populist right in Europe, with the rise of group interests, racism and a kind of unease toward Islam, and that means, therefore, a big Muslim country like Turkey is probably considered more foreign than others.
"That doesn't stop most of the governments of the EU from being in favour of Turkish membership, and that's a very interesting difference to analyse politically. We really only have one member state objecting head-on to Turkish adhesion, and that's France. Germany's position is still very ambiguous. Austria is also against the adhesion, and then, more globally, there are other member states that are in favour, and some of them defend it seriously, notably the countries of the eastern Mediterranean.
"Obviously, we hear the Mediterranean countries of Europe a lot less today, especially given the financial crisis Europe is submerged in today, because of the question of sovereign debts. So it's clear that these countries are politically less able to make themselves heard, and that the Franco-German partnership remains today the founding couple of the European Union. It is after all the couple that gives the EU political direction. That is why it is of such importance for the Turks that France and Nicolas Sarkozy wrap this adhesion up — since a presidential election is coming next year and we'll see what that produces."