The EU and Turkey - to join or not to join?
Comments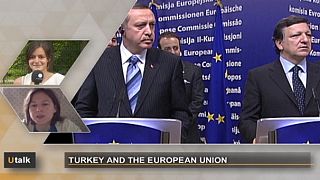 This week in U talk, our first question is from Ceren, a student from Istanbul. She says:
"I'd like to know what you think about Turkey joining the EU? What would be the advantages and disadvantages for both the EU and Turkey?"
Answering her question is Dorothée Schmid, the researcher responsible for the contemporary Turkey program at IFRI, the French Institute of International Relations:
"With regard to the timing of the negotiations, there is no answer. All we know is that these negotiations are open and even if a mandate is reached, this doesn't mean that Turkey will definitely enter the European Union. This is something that has annoyed many Turks – the government and the public.
"Anyway, we still have at least a decade to open and close the 35 chapters of the EU Acquis – which is the body of EU legislation which has to be adopted by any country that wants to become a member. So far, there are 13 chapters out of 35 open and one chapter closed.
"As for mutual interests, that's a question that changes a lot with time. Initially, when we opened the negotiations, Turkey was very keen to join the EU. The European Union was doing very well, it had made several major expansions. Turkey may have the feeling that it had remained outside the great movement of enlargement.
"Today, Europe is completely in crisis so the situation is quite different. Turkey has emerged as a regional power and the same can be said even beyond its immediate regional environment. It's become more of an actor on the international stage. Europe is in a deep crisis in the political, institutional and economic sense today, so the attractiveness of joining is less.
"We can consider that there are technical and political barriers on the road to membership. From a technical point of view, there are many chapters that will be very difficult to open and close for Turkey. That is to say, today we've come to a point where the reforms for membership are very expensive. Also, Turkey is a great country, which has its own legal traditions and its own operating policies. So making the reforms would be difficult.
"Then there are a number of political obstacles. The first – which is presented by the Europeans as a legal block – is the question of the Turkish presence in northern Cyprus and the refusal of the Turks to apply the so-called Ankara Protocol – that is to allow vessels from Greek-Cypriot southern Cyprus free access to Turkish ports."
If you have a question to ask, please visit our website euronews.net/u-talk