Time for a common EU defence policy?
Comments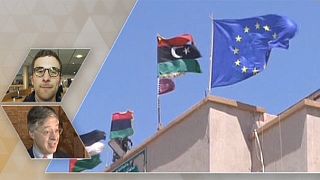 With Europeans taking the lead in the Libya conflict, the question of whether we need a common defence policy has been raised once again.
Stanislas, a student from the French city of Lyon, wants to know why EU member states do not do more to coordinate and share military resources.
He asked u-Talk's guest panelist, André Sapir, a professor of economics at the Free University of Brussels, if the time has come for an EU defence policy.
According to Sapir, the intervention in Libya had raised serious questions on military and migration issues
Sapir said: "The most obvious reason (we have no common policy) is that great differences still exist between the EU member states, and not just on the question of when to resort to military intervention."
"There was an attempt to shape a pan-European Defence force under what was called the European Defence Community. This question will be raised once again in the near future."
Sapir argues larger countries like France and Britain with long-established military tradition and greater experience in military intervention want to maintain the status quo.
"They are not yet ready to share that expertise," he said. "Smaller nations are usually more willing to pool resources. This goes further to the heart of the European debate. Do we want a more community-led Europe or a more inter-governmental Europe?
Sapir believes the pressures of the eurozone crisis, migration and reduced defence budgets means "these two visions of Europe are competing with each other."
Said the professor: "Such tensions are inevitable but I think that they will eventually be resolved step-by-step, which is what happened with the single currency."