Fostering youth mobility in Europe
Comments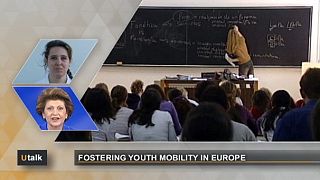 Aurora, Madrid:
Hello, my name is Aurora, how can we encourage student mobility in Europe?
Androulla Vassiliou, European Commissioner for Education and Youth:
"Our goal is to give the opportunity to as many young people as possible to be mobile, that is to study, train or volunteer abroad. And the reason for doing that is because we believe that through mobility the young people can increase their personal development and of course, they increase their chances of finding work.
For the time being we're supporting about 500.000 young people to be mobile, either to study abroad or to train abroad, or even to volunteer in some foreign countries.
And we spend about 1 billion euros a year for that but still, it's not enough. For example, according to a recent Eurobarometer study 53% of the young people polled said that they would be willing and eager to work abroad, but unfortunately only 14% of them have opportunity to study or train abroad and that is because of lack of funds.
That is why I am now pressing for more funds for mobility projects and also in order to bring down the barriers the administrative and legal barriers that still exist and make it difficult for young people to become mobile."
If you have a question for U talk visit our website.