Consular protection for EU citizens
Comments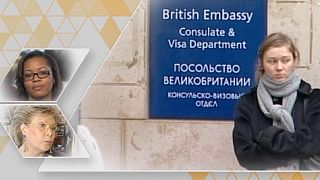 The European Union treaties guarantee all EU citizens the right to equal protection, when travelling or living outside the EU and their own country is not represented, from the diplomatic and consular authorities of any member state.
Rienkje, London:
"As a European citizen I benefit from several rights. One of these rights is the ability to activate consular protection (when in trouble) in a third country. Could you explain this?"
Viviane Reding, EU Commissioner for Justice, Fundamental Rights and Citizenship:
"People (EU citizens) do not know that they have this right (to consular protection) because the Lisbon Treaty is new and (EU) citizens are not yet used to making their rights become a reality. Very often they panic when they are abroad, most of all when they come from smaller member states where there is no embassy available, and so they should know that from now on they can ask help from all (EU) consular protective measures possible.
"There are only three countries outside Europe (the United States, China and Russia) where (all) the 27 EU member states have an embassy, so imagine all the other member states, all the other countries where people travel and where they have a problem.
"Now in Libya, for instance, just to give you an example, the Hungarians airlifted in one plane Hungarians, Romanians, Bulgarians, Germans, Belgians … people from all European nationalities."
The right to consular protection can be crucial in the event of armed conflict, civil unrest, or natural disasters such as the earthquake and tsunami in Japan.
It also applies in more commonplace situations such as lost or stolen passports, serious accidents, illness or death abroad, arrest by the police, and for the victims of assault.