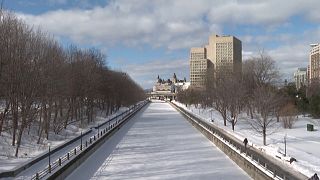 The largest outdoor skating rink in the world might not open this year due to a lack of ice. It would be the first time in five decades that it's closed.
It has been too warm in Ottawa, Canada for the iconic Rideau Canal Skateway to properly freeze. The city is in the grips of its third-warmest winter ever recorded, according to Environment Canada.
Temperatures have been hovering just below freezing for much of December and January. They are usually much colder reach around -5°C to -10°C.
"Mother nature has presented us with a big challenge this year," says Bruce Devine, a National Capital Commission senior manager who is responsible for the skateway.
"Mild temperatures have made it difficult to make good, solid ice that can support the weight of our equipment and skaters."
For the canal to freeze, temperatures need to hold steady at -10 to -20°C for almost two weeks. Currently, Devine says, the ice is too porous and not of good enough quality for the rink to open.
With a cold snap forecast, he remains optimistic for what would be the skateway's latest opening on record. But others worry it might not open at all this year.
"The weather will be more conducive (for skating) next week," according to meteorologist Peter Kimbell.
"But will it be enough? I don't know."
The skateway is opening later and later every year
Rideau Canal Skateway winds 7.8 kilometres through the centre of Ottawa. It is the size of 90 Olympic skating rinks and is the biggest anywhere in the world, according to Guinness World Records.
It usually attracts 22,000 visitors a day who skate up and down taking in views of parliament and stopping at huts along the way for snacks and hot drinks.
The skateway normally opens at the end of December for 30 to 60 days of skating. But its opening has shifted later and later and stayed open for less time in recent years.
"Eventually we'll get to a stage where it might not be possible to open the skateway," warns Shawn Kenny, a professor at Carleton University in Ottawa who studies climate impacts on ice.
This year the city was also forced to scale back outdoor activities for its annual Winterlude festival and hotel owners say booking numbers are down.
"It's really too bad for all the businesses and all the people who find joy (in skating)," says 22-year-old student Clara Harman-Denhoed.
But, she adds, the situation highlights "the impact that climate change has on us here."
Watch the video above to learn more about how climate change has had an impact in Ottawa.