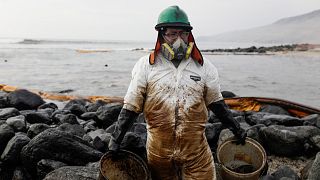 -
Copyright

REUTERS/Angela Ponce
Spanish energy giant Repsol has been hit with almost €5.5 million in fines by Peru's environmental authorities over an oil spill off the country's coast last year.
Three new fines were issued for "administrative responsibilities" relating to the spill, according to the Environmental Assessment and Monitoring Agency (OEFA).
The company has already been forced to pay over €11 million for its poor handling of the disaster.
How disastrous was the oil spill in Peru?
On 15 January 2022, nearly 12,000 barrels of crude oil spilled into the sea off the coast of Peru. It came from a tanker unloading at La Pampilla Refinery, which is owned by Repsol.
The resulting oil slick affected more than 174 hectares of beach - an area the size of 270 football pitches - killing birds, sea lions and penguins.
More than 700,000 people are thought to have been affected by the spill with more than 20 beaches and dozens of businesses forced to close. Authorities have said that at least 5,000 people are also thought to have lost their livelihoods.
Peru's United Nations office described it as "the worst ecological disaster" in the country's recent history.
Repsol initially blamed the spill on freak waves caused by a volcanic eruption more than 10,000 km away in Tonga. It has since shifted responsibility to the tanker carrying the oil.
How is Repsol paying for the oil spill in Peru?
The company was already fined €1.18 million last July and a further €10.1 million in October for not doing enough to remedy the spill, failing to identify the areas affected and reporting false information.
The latest fines were for failing to supply "required information" about the environmental damage caused by the spill, OEFA said.
Alongside five other companies, Repsol is also facing a €4.3 billion civil lawsuit for damages done to people and the environment. It was filed by Peru's consumer protection agency Indecopi which has argued that environmental damage is continuing to impact beaches and fishermen.
Repsol Peru says on its website that the La Pampilla Refinery has already signed compensation agreements with more than 3,200 families and individuals affected.
Peru's oil industry has increasingly come into conflict with local communities who say a swathe of spills, leaky pipelines and other pollution is wreaking havoc on the environment.
Between 1991 and 2021 there were 1,002 oil spills in the country - 556 in the Amazon region and 404 on the coast - according to a recent report from Oxfam and Peru's National Coordinator for Human Rights.