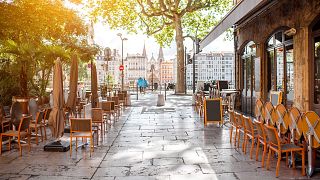 -
In a bid to limit carbon emissions, it is now illegal in France for cafes, restaurants, bars and other establishments to operate heated terraces. 
Brought in on 31 March, the ban is part of a raft of decrees brought in to reduce energy consumption and fight climate change. It was one of the ideas recommended by the French Citizen's Convention on Climate, an initiative that asked members of the public for their solutions to the global crisis. 
There are just four exemptions to the new rule: closed tents at circuses or funfairs, mobile event installations, waiting areas in stations, ports or airports and establishments with a covered area that is sealed from the outdoors.  
Those found to be breaking the law will be given fines of up to €1,500 and this amount can increase after repeat offences. 
Where in France were patio heaters already banned?
Environmentalist mayor of Lyon, Grégory Doucet, decided to get ahead of the curve by putting an end to the outdoor heaters last November - just as he promised during his election campaign.
The City of Lyon issued a municipal decree that "henceforth prohibits all types of heating, whether fixed or mobile and whatever their mode of operation".
Those who do not respect this measure risk a suspension of their terrace and a fine of 35 euros, the mayor warned. The rule is part of the city's climate-air-energy plan.
Lyon wasn't the first French city to ban terrace heaters, however.
"Although the cities of Rennes and Thonon already took these measures a few years ago, few cities had followed suit," Doucet said. 
In France, patio heaters are responsible for the emission of half a million tonnes of CO2 per year, according to the Environment Ministry. 
The energy consumption of a terrace equipped with five heaters, lit for 14 hours a day from mid-November to mid-March, uses 50,400 kWh of energy - emitting 13.7 tonnes of carbon dioxide in the process.
That is the equivalent of the emission of a 120,000 km car trip. The same terrace, equipped with 10 electric heaters, consumes only 25,200kWh over the same period.
To compensate for any loss of turnover, Lyon City Hall has promised businesses that they can extend the area that their terraces cover throughout the summer.
Watch the video to see how restaurants in Lyon reacted to this ban.