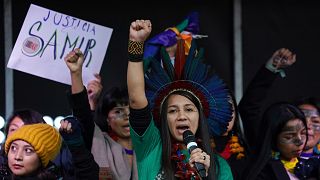 -
Tens of thousands of protesters took to the streets all over the world on Saturday to call on world leaders to do more to tackle the climate crisis during COP26. 
The global protests came after tens of thousands of young people rallied in Glasgow on Friday to denounce inaction and greenwashing at the global climate summit. 
Organisers said over 250 events were planned around the world, in addition to a digital global rally.
"We are taking to the streets across the world this weekend to push governments from climate inaction to climate justice," said Asad Rehman, a spokesperson for the COP Coalition.
Follow the climate strikes and other COP26 developments live on our blog:
11.06.2021
17:38
'Another world is possible,' activist Vanessa Nakate tells Glasgow protesters 
Speaking from the rally in Glasgow, Ugandan climate activist Vanessa Nakate started by painting a gloomy picture of the devastating impacts of climate change. 
"Droughts and floods have left nothing behind for the people," she told the crowd, with "tens of thousands of people suffering catastrophic levels of food insecurity."
"We must demand that our leaders treat the climate crisis like a crisis," she went on. 
On a more positive note, she said: "We remain hopeful. Another world is possible." 
"The power of the people always wins. We are unstoppable and we're going to heal this land," she concluded. 
11.06.2021
16:39
Indigenous peoples to take centre stage at COP26 event 
A COP26 event is set to highlight "the critical role of indigenous peoples and local communities" in nature and land use plans. 
"This event will explore how governments, scientists and Indigenous Peoples are working with nature to enhance climate ambition and help keep the 1.5C goal within reach, while delivering benefits for biodiversity and for the millions of people who depend on the land and ocean for their livelihoods," organisers have said.
Watch the event live here: 
11.06.2021
16:26
'We are going to have to make tough decisions', says COP26 President
COP26 President Alok Sharma warned at a press conference that "tough decisions" were ahead for the remaining week of the summit. 
"We are getting to the point where the rubber hits the road, where we're going to have to make tough decisions in terms of texts," he said.
"We will move to negotiations among ministers and I certainly do not underestimate the difficulty of the task which is ahead of us."
With AFP
11.06.2021
16:02
Is COP26 a failure? Not so fast, says expert
Greta Thunberg's comment on Friday that COP26 was a "failure" has grabbed media headlines all over the world.
But others say it's too early to rush to judgement about the multilateral talks. 

"COP26 has barely started," tweeted Michael Mann, director of Penn State's Earth System Science Center. "Activists declaring it dead on arrival makes fossil fuel executives jump for joy."
11.06.2021
15:28
'Words not enough,' says Scottish activist at Glasgow climate march
Thousands of climate protesters braved torrential rain in Glasgow on Saturday to take part in worldwide demonstrations against climate inaction. 

"Our world is under attack, stand up fight back,"they chanted. 

"We're clear that warm words are not good enough -- and that the next week of talks must see a serious ramping up of concrete plans," said Scottish activist Mikaela Loach at the protest. 
Security has been ramped up in Glasgow and many city-centre shops closed for Saturday's march. 
With AFP
11.06.2021
15:20
Parisians rally for climate during COP26
Hundreds of people rallied in front of the Paris City Hall on Saturday to demand "climate justice" and hold world leaders accountable halfway through COP26. 
A large banner saying "inactive at COP26, dying in 2050" was floating on the Olympic rings set up in front of the city hall, with Paris due to host the 2024 Olympic Games. 
More climate protests are planned throughout France. 
11.06.2021
15:09
Environmental group reacts to COP26 announcement on sustainable agriculture
An environmental group welcomed the pledge by 45 countries to shift to sustainable farming but urged more nations to join the coalition. 
"We cannot phase out food, like we can fossil fuels and therefore we welcome the Policy Action Agenda for transition to sustainable food and agriculture," said Joao Campari, Global Food Practise Leader at WWF. 
"Now we need all countries to endorse this action agenda and utilise the action plan,"  he added.
11.06.2021
14:57
READ: 'Staggering scale' of climate misinformation on Facebook revealed in new report
Activists say Facebook is failing to act on climate misinformation on its platform - and is even benefiting financially from placing climate misinformation on its paid advertising platform.
11.06.2021
14:55
Workers in Poland protest push to end coal use
Trade union members from Poland's energy sector have protested before the European Union's office in Warsaw, saying the EU's moves to discourage coal use are responsible for soaring energy prices.
Some 200 power plant and coal mine workers from across Poland blew horns and waved union flags as they chanted. The protest's motto was "YES for Poland's Energy Sovereignty. NO to High Energy and Heat Prices."
Like other EU countries, Poland has pledged to phase out coal use and to develop wind, solar and other renewable energy sources. At the UN climate summit in Glasgow this week, the government said it would not be able to close all coal-fired plants until 2049, a target that disappointed activists.
With AP
In case you weren't able to follow along yesterday, here are five key takeaways from the summit's Youth Day.
Here is what you need to know as Day 6 wraps up:
For the second consecutive day, a climate march is underway in Glasgow where up to 50,000 people of all ages are expected to show up, according to organisers and police. 
Climate protests have already taken place today in Australia and throughout Asia, and are in full swing across Europe. 
After youth activist Greta Thunberg labelled COP26 a 'failure' on Friday, some warned it was still too early to rush to judgement about the summit
.
"Activists declaring it dead on arrival makes fossil fuel executives jump for joy," tweeted expert Michael Mann. 
Today is Nature Day as the summit turns its focus to issues such as land use and sustainable agriculture. 

A coalition of 45 countries pledged "urgent action and investment to protect nature and shift to more sustainable ways of farming," the UK COP26 presidency has said.

Developed countries will start making good on their promise of $100 billion (€86 billion) in annual climate aid to developing nations next year. This is a year earlier than most estimates, US climate envoy John Kerry said.