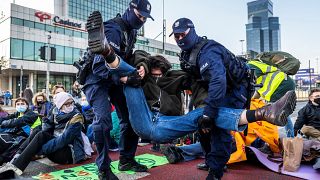 -
Copyright

WOJTEK RADWANSKI/AFP or licensors
Polish people are taking their government to court over its failure to protect them from worsening climate impacts.
The cases are the first to expose the emerging effects of climate change on people living in Poland and urge the courts to determine that the country's inadequate climate policies violate individual rights.
The country is already seeing droughts, wildfires, severe flooding and crop failures due to changing weather patterns and these impacts will worsen with further global heating.
Five individual cases – three of which were filed today, with a further two to be filed later this month – are being brought before regional courts, seeking to take the national government to task over its 'regressive' climate stance and failure to slash emissions.
The claimants are supported by environmental law charity ClientEarth and leading Polish law firm Gessel.
The five claimants affected by climate change
They include a farmer, a plant wholesaler, an ecotourism business owner, parents and a youth climate campaigner, all impacted directly by the intensifying weather events the country is seeing.
Claimants will ask the court to find that the Polish Government must commit to at least 60 per cent reduction in greenhouse gas emissions (on 1990 levels) by 2030 and climate neutrality by 2043.
Piotr Romanowski, one of the claimants, is a farmer, father and 40-year resident of the Warmia region of Poland. Last year, he lost revenue after the land became too dry for a share of his nursery stock of shrubs and bushes to survive.
"I can see climate change, and feel it on my own skin and the skin of my farm. Among other things, I am losing water. There are three ponds on my farm – all three are practically dry already," he says.
"I fear for the future, the future of my children and my farm. I am filing this lawsuit because the Polish government is doing nothing to prevent this situation, to prevent climate change."
The Polish Government is notable internationally for its outdated stance on climate action. Poland still produces 70 per cent of its electricity from coal, the most climate-damaging fossil fuel worldwide, and subsidises it heavily – PLN 8bn (€1.75bn) from the public purse is set to go to fossil fuels in 2021. The country is home to one of the world's biggest coal power plants, Bełchatów, which emits approximately as much carbon dioxide each year as Slovakia.
The Polish Government foresees coal mining continuing until 2049, 20 years after the date scientists have set as the absolute deadline for coal-burning in Europe. Its reliance on fossil fuels is a sticking point in EU policymaking – and it has recently positioned itself in opposition to an EU court ruling declaring the operation of the Turow mine illegal.
Małgorzata Górska, from the Podlaskie voivodeship, runs an ecotourism venture with her husband. It is being dramatically affected by flash flooding, which has damaged her home and property, threatened her family's safety and polluted their water supply.
"I decided to take this lawsuit because the time for talking and thinking is over and the time for action has come. I believe that Polish politicians have been passive for too long – they have not taken action to protect us, the citizens, from climate change. I believe that this is currently the greatest challenge facing politicians and the greatest threat to humanity," he says.
Another claimant is Monika Stasiak, a parent in central Poland.
Over the past years, Monika has been suffering with her community through intensive droughts and reduced water levels in the Pilica River. Low river levels has meant local ferries were unable to run, and neighbouring farms have suffered crop failures from increasing drought. The continued degradation of the local environment and decreasing water levels have affected her and her partner's plans for an agritourism business.
Monika fears for the future her son will grow up in. She worries that if we don't stop climate change, people will be forced to struggle for survival as water and food availability become an issue.
The claimants are aiming to prove an infringement of their fundamental rights due to the Polish government's conspicuous lack of action to protect the climate by reducing emissions.
They are among the first in the world to ask a court to find that climate inaction violates the claimants' rights to a healthy environment, which the claimants argue includes the right to live in a safe and stable climate.
Why is Poland so far behind on climate goals?
The cases will hinge on Polish civil law but also make reference to EU human rights provisions.
The cases aim to force ambitious policy by the Polish Government and make clear that the legal right to live in a stable climate exists, and can be upheld in court.
ClientEarth lawyer Sophie Marjanac explains why this is so important.
"Climate change is having tangible impacts on people in Poland, today, and will only worsen in future. The government must take responsibility and reduce Polish emissions in line with the goals of the Paris Agreement to protect the claimants from the severe effects of climate change.
"These lawsuits make it very difficult for leaders in Poland to ignore the serious effects of climate change in their country. The Polish Government must guarantee people the right to a healthy environment and the right to live in a safe and stable climate – it has a legal duty under its civil code and under human rights law to do so."
The Polish government has long been labelled a climate laggard, and its outdated position has left it the only EU Member State not to commit to reaching climate neutrality by 2050.
The rate of emissions reduction in Poland has lagged far behind other EU Member States, putting it near the bottom of international rankings on climate effort.
"The Polish government is setting regressive policy that is seemingly blind to the dramatically shrinking carbon budget, and Poland's significant contribution to global emissions," says Ilona Jędrasik, ClientEarth energy lead in Warsaw.
"Our government can take three simple steps to show it is serious about climate change:
Commit to a date when the country will stop using coal for electricity
Rapidly reduce greenhouse gas emissions by at least 60 per cent by 2030
Get to net zero emissions by 2043 to ensure that the goals of the Paris Agreement are met.
"Even some energy companies in Poland are acting faster than the government, investing in developing renewables. Our leaders' position is directly at odds with reality, and with the needs of the people – this is why we're turning to the courts."