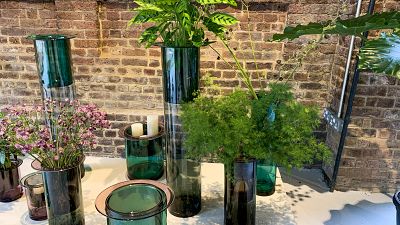 This year, London Design Week took on a firm grasp on sustainability. First on the hitlist was interiors.
It may come as a shock so soon after fashion week, but green is the new black, according to speakers at LDW's sustainable interiors workshop.
Hosted by artisan glassmaker LSA International, which has just unveiled a brand new range of glassware in collaboration with the world famous Eden Project. Each of the items in its collection, dubbed Canopy, is made from 100% recycled glass and boxed in recycled, recyclable packaging printed with organic vegetable inks.
The range features planters, vases and drinking vessels inspired by the "concept of hydration and propagation", said the brand. And the experts love it, earning the collection a prestigious iF Design Award earlier this year.
At LDW, much of the collection on show were planters, becoming terrariums (or terraria as they're less commonly known) – a home for succulents and houseplants galore.
These staples of 80s interiors are back with a bang. Making for a tidier way to have a houseful of plants, they're ideal for eco-conscious urbanites in desperate need of some clean air.
Not only are they selling like hot cakes, but the capital has been deluged by workshops to create your own terrarium, and people could not be more jazzed about it.
Chief among them are the Botanical Boys, who partnered with LSA to put their adorable array of plants in the new range of recycled glass terrariums.
Bringing recycling, conservation, clean air and fashion together makes for a winning combination to bring sustainability into the luxury statement pieces on display in people's homes, according to the panel.
And bringing these cute household accessories back into vogue means there are there are plenty of workshops on the horizon if you couldn't make it down to Coal Drops Yard this time around.
Find a course near you at Eventbrite.